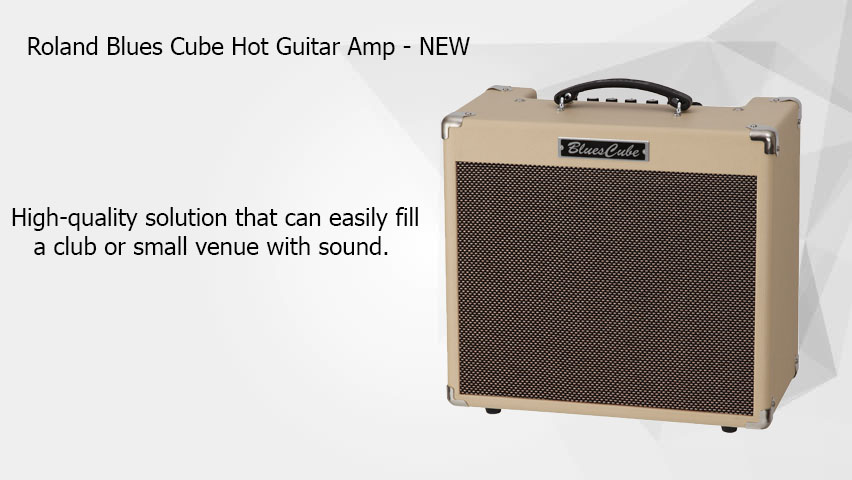 Roland expands its Blues Cube line with the Blues Cube Hot guitar amplifiers, offered in Black and Vintage Blond finishes. Using Roland's proprietary Tube Logic technology, the Blues Cube series offers a similar tone and feel to classic desirable tube amplifiers without the extra weight or maintenance requirements. Tipping the scales at less than 30 pounds and outputting 30 watts, the Blues Cube Hot will be an option worthy of the gigging guitarist who requires a portable, yet a high-quality solution that can easily fill a club or small venue with sound.
Roland's Tube Logic takes all the components used in the manufacture of classic tube amplifiers into account. Combined with the understanding of how these electrical components work together as a unit, this technology allows Roland to achieve a very realistic tube-amp sound and feel using reliable modern technology. The controls on the amplifier respond in a similar fashion to a tube amp so you can find your tonal and dynamic "sweet spot."
The Blues Cube Hot features a single-channel design that can ride the spectrum of tones, ranging from sparkling clean sounds all the way to aggressive overdrive territory and anywhere in between, just using the Volume knob. Augmenting the tonal options are the Boost and Tone buttons, which add more drive and accentuate high frequencies, respectively. Other tone-shaping controls include a 3-band EQ, a Reverb control and a Master Volume control. Need to play in a tiny venue, record or practice at home, or just need to turn the volume down without affecting your tone? The Blues Cube Hot also features the Power Control knob, which decreases your volume but maintains your fundamental tone.
The rear panel of the Blues Cube Hot houses some features not found on many classic amplifiers. A stereo headphone output allows for silent practicing, while the line output can be used to drive a power amp or go straight into a mixing board. Roland also offers a decidedly modern USB output for interfacing directly with your DAW (Digital Audio Workstation) for instant recording.