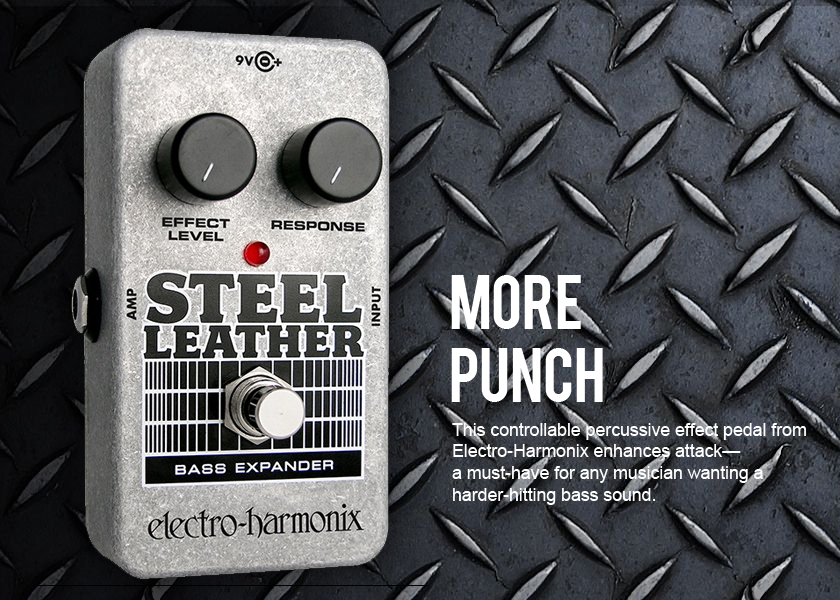 Electroc Harmonix Steel Leather – Gives your playing more punch.
Make your sound more dynamic with the Bass Nano Steel Leather Expander.
This controllable percussive effect pedal from Electro-Harmonix enhances attack—a must-have for any musician wanting a harder-hitting bass sound.
Make your bass cut through any mix!
The Steel Leather from Electro-Harmonix gives your bass a sound that will punch through any mix. It enhances your picking and plucking of notes on the bass guitar, giving the notes a sharp attack that will easily cut through. Use the two knobs to adjust the amount of effect from subtle attack to a total emphasis of the attack. The louder you play, the more Steel Leather expands and emphasizes the attack. But on quiet notes, there may be no expansion at all. This means you can use Steel Leather to sharpen attacks simply by playing louder.
Electro-Harmonix Steel Leather Features:
Expander that operates over a narrow frequency range
Increases attackProvides more dynamic playing
Electro-Harmonix – 40 years of rockin' effects!
Electro-Harmonix has been inspiring musicians with their groundbreaking effect pedals, vacuum tubes, and other accessories for more than 30 years. From the legendary riffs of Jimi Hendrix and George Clinton to the new-school licks of Slipknot and Korn, some of the most influential and popular musicians of all time have relied on Electro-Harmonix to provide innovative and top-quality effects pedals and other equipment. The proof is in the pedals, so choose your poison and make some noise. Whatever your style, there's a stompbox with your name on it from Electro-Harmonix!
SPECIFICATIONS
Type  Attack Expander
Inputs  1 x Instrument
Outputs 1 x 1/4″
Power Supply Included  No
Batteries  1 x 9V
Height  2″
Depth  4.3″
Width  2.2″
Weight  0.55 lbs.
Manufacturer Part Number  Steel Leather