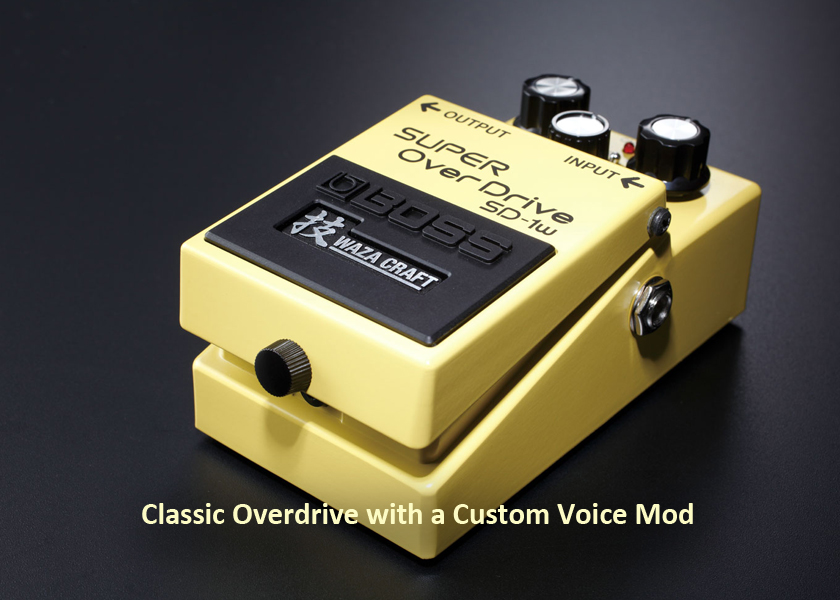 Classic Overdrive with a Custom Voice Mod
The Waza Craft line BOSS SD-1W Super Overdrive hot rods this classic booster pedal without losing its timeless character. For starters, the mater pedal makers at BOSS reengineered the original SD-1's discrete, all-analog circuitry, using premium components and a redesigned topology to clean up the overall sound. So even when you're running it in Standard mode, the SD-1W delivers the classic smooth and articulate overdrive sound that made the SD-1 legend, but with less noise and greater articulation than ever. Flip it over to Custom mode, and you get treated to super-fat bass and an extra helping of gain. Both of the SD-1W's modes are nothing short of astonishing.
Waza Craft: a higher art of stompbox design
The Japanese word "waza" means art and technique, an appropriate name for BOSS's premium line of redesigned guitar effects pedals. You see, the pedal collectors here at Sweetwater have seen more than enough special-edition stompboxes that are only a paint job away from the originals, which is why we're so blown away by what BOSS has done with the Waza Craft series. Even in their Standard modes, Waza Craft pedals sound like idealized versions of the originals, offering the same sonic character that made them iconic, but with less noise and more consistent tone. And when you A/B the Standard mode and the Custom mod, the contrast is nothing short of astonishing.
BOSS Waza Craft SD-1W Super Overdrive Guitar Effects Pedal Features:
A special edition of the classic SD-1 Super Overdrive pedal with a switchable custom voice
Redesigned, discrete all-analog circuitry provides classic SD-1 character with added clarity
Mini toggle lets you switch back and forth between standard SD-1 sound and a custom voice
Custom mode offers a healthy bass boost and extra gain to fill out your tone for solosBoth modes remain highly responsive to volume and picking dynamics