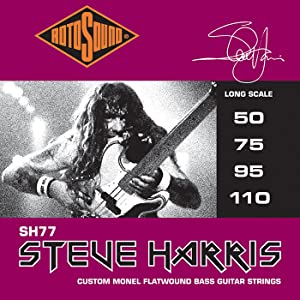 Rotosound SH77 Standard Gauge Stainless Steel Steve Harris Monel Flat Wound Bass Strings
Why do so many artists choose Rotosound?
By helping music icons like Jimi Hendrix, John Entwistle and Geddy Lee to create their amazing sounds, Rotosound strings have become synonymous with the British Tone. Renowned throughout the world, Rotosound is the home of legendary products such as Swing Bass 66 and Roto strings.
For over fifty years now their strings have changed the sound of rock and have been used on some of the most amazing albums recorded by some of the best artists in the business.
Founded in 1958 by James How as a small, UK based, family-owned and operated company, Rotosound core values are little changed today. Each string is physically and visually inspected at every stage of the manufacturing process to get maximum consistency, ensuring each one is unrivaled in tone, tuning stability and durability.
Why the SH77?
This heavy gauge set is packed with so much middle and low end that Steve demands for his style of music coupled with its silky smooth finish and tone only Monel 400 can offer.
Steve Harris says – "It's all I've ever used"
With such a following over many years it should not be surprising to note that Rotosound remains extremely proud of its long standing alliance with Iron Maiden by offering its Steve Harris signature set, as used by the very man himself.