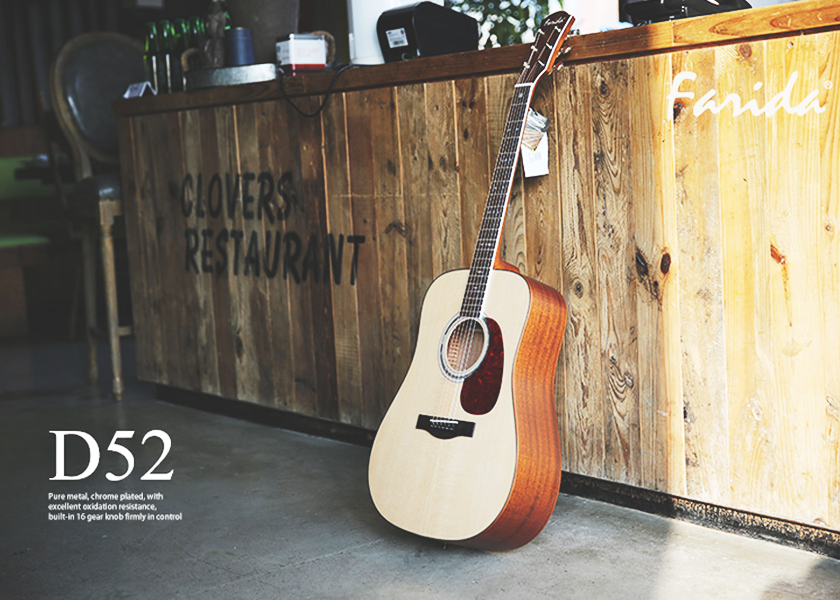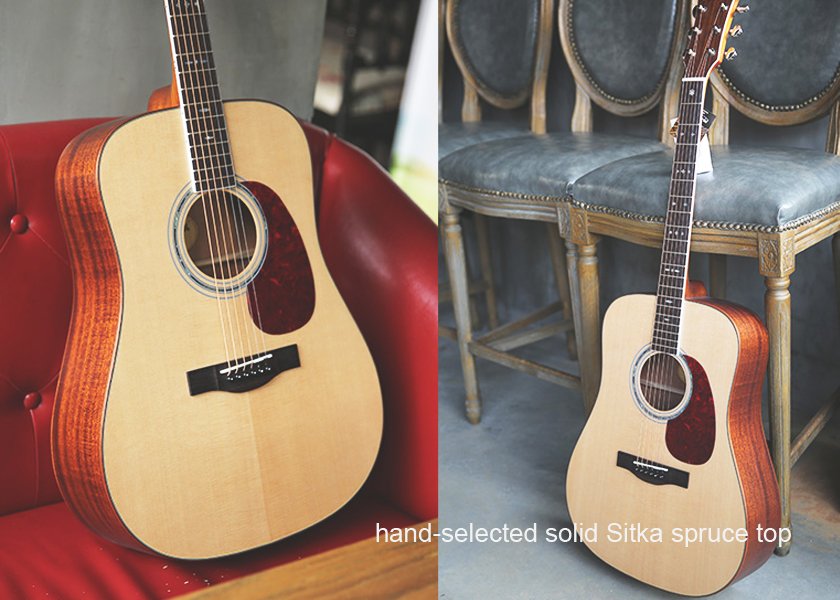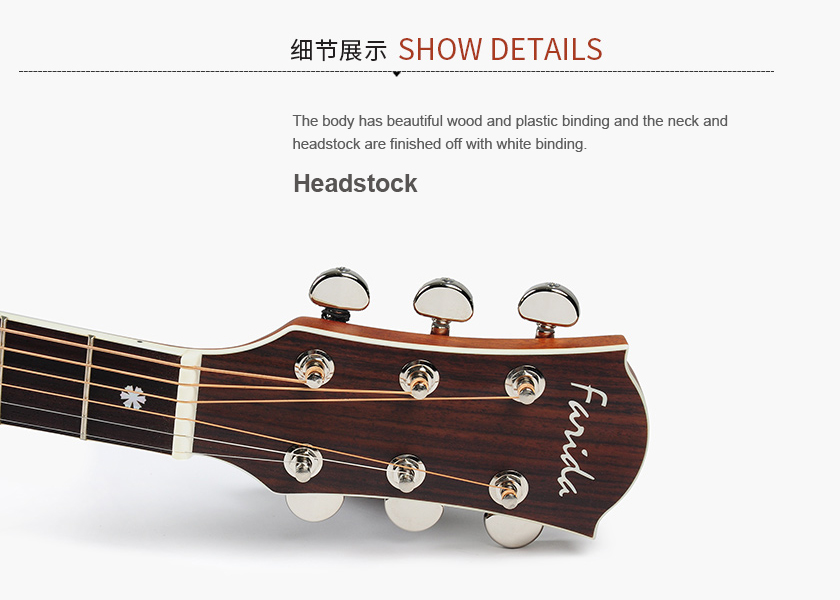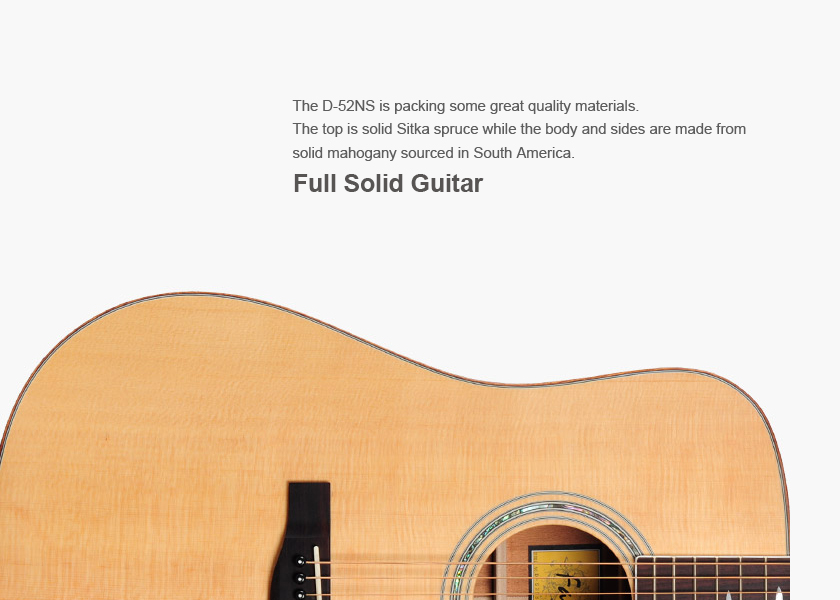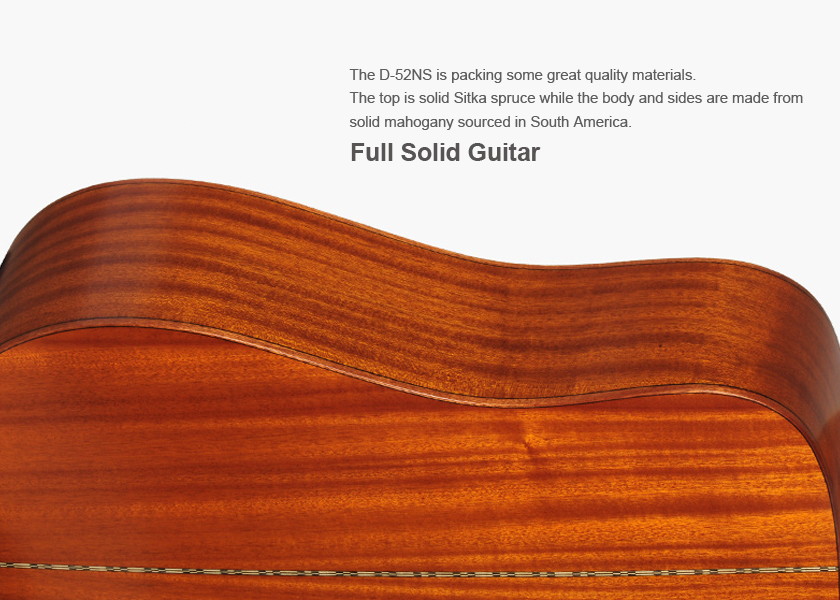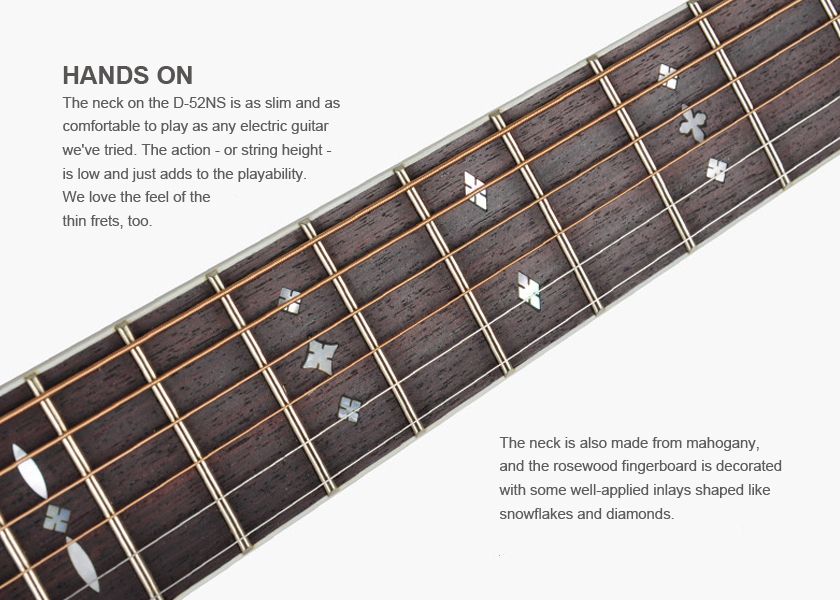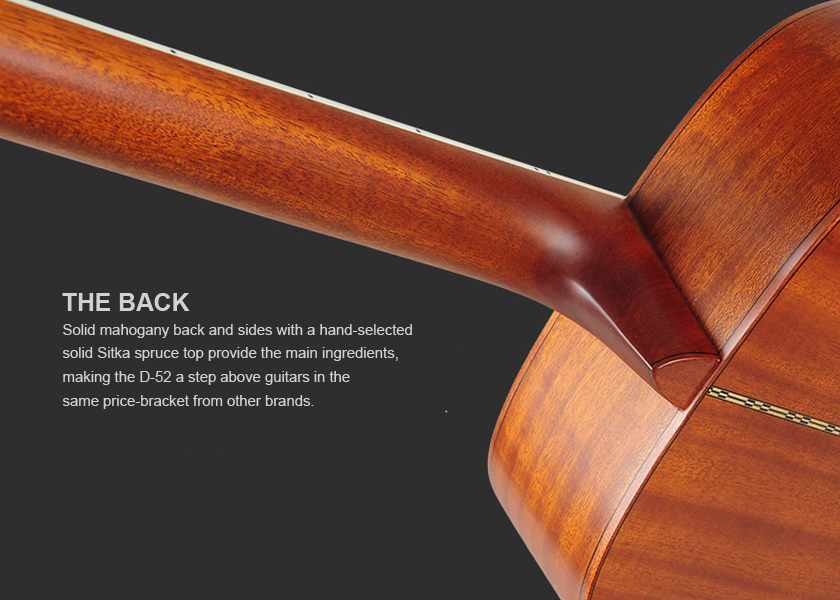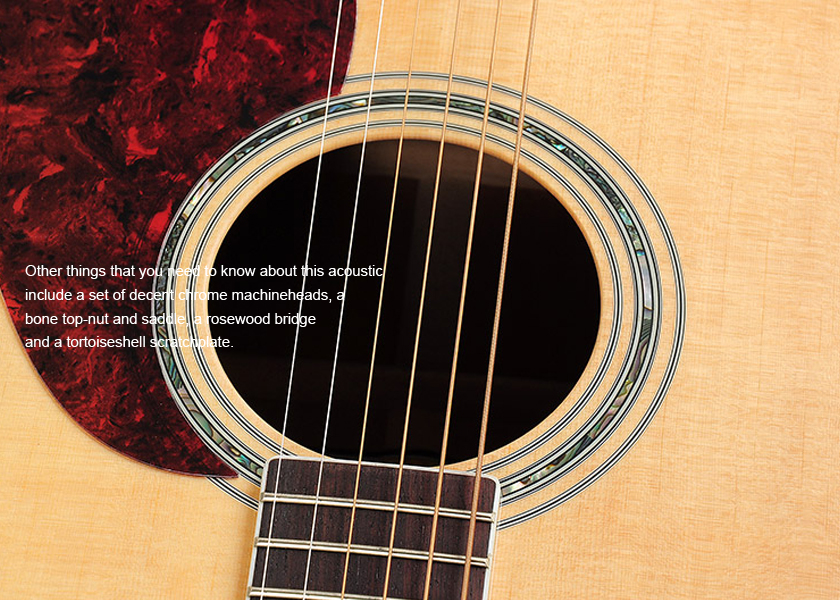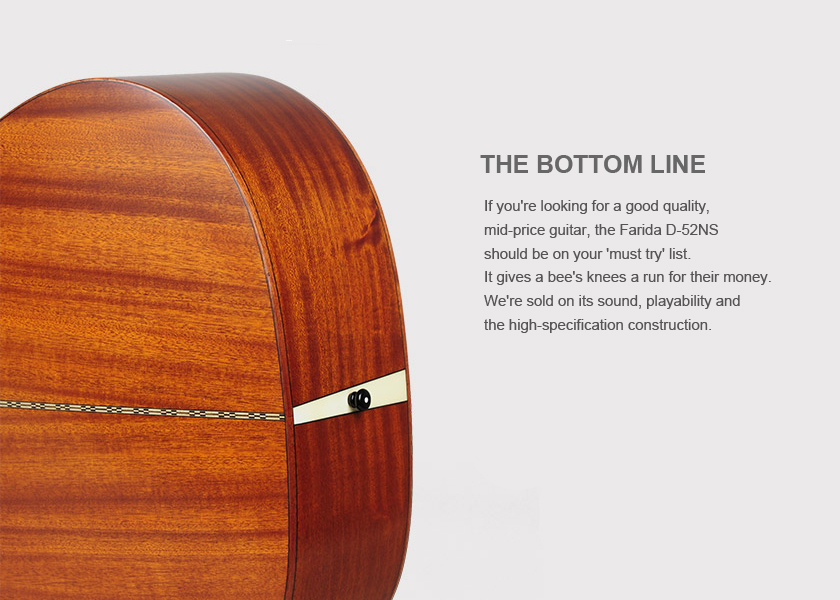 <br>
<br>
The most demanding players will nearly always select an acoustic guitar constructed from all-solid timbers, for the best tone.      We've also added a bone nut and saddle and abalone soundhole rosette to complete this professional package. The result is an articulate sound with excellent balance from bass to treble frequencies.
The big news about the D-52NS is that it's solid wood construction. That doesn't mean solid like an electric guitar – that would be too heavy for a guitar of this sort. No, rest assured that we're dealing with the usual hollow, fat number-eight shape body here, just like any other acoustic guitar. In this case, 'solid' refers to the woods that have been used in this guitar's construction. With acoustic guitar construction, the woods are either laminated (sheets of wood glued together) or solid. Often a guitar will have a solid wood top, usually spruce, and then laminated body and sides. This gives them a decent quality tone while keeping the price down at the same time. On entry-level guitars the body will usually be made entirely of laminated woods, so it will serve you well as a learner instrument but the tone will probably be uninspired. This is because the best guitars are constructed from solid slabs of dead tree. The theory is that while laminated guitars will never get any better with age, acoustics made from solid woods will mature over time and long-term ownership will be rewarded by a sweeter tone. Obviously, we won't be spending long enough with the D-52NS to find that out for sure but we've had enough experience of guitars with this quality of tone-woods to know that solid wood acoustics are a good investment. Take TG's word for it.
The D-52NS is packing some great quality materials. The top is solid Sitka spruce while the body and sides are made from solid mahogany sourced in South America. The neck is also made from mahogany, and the rosewood fingerboard is decorated with some well-applied inlays shaped like snowflakes and diamonds. While many manufacturers prefer fat frets on their guitars, we're happy to see 20 thin vintage-style frets embedded in the fingerboard on the Farida D-52NS.
Other things that you need to know about this acoustic include a set of decent chrome machineheads, a bone top-nut and saddle, a rosewood bridge and a tortoiseshell scratchplate. For those of you still reeling from the implications of wood farmed from South America to use on the D-52NS, let us assure you that no tortoise was harmed in the making of the scratchplate on this guitar because it's actually made of plastic. Moving on, the 'NS' part of the model number of this guitar refers to the natural satin finish. You'll also find some cool finishing touches on the Farida. The body has beautiful wood and plastic binding and the neck and headstock are finished off with white binding. Finally, the sound-hole is decorated with abalone shell, so while the tortoise escaped with its life, we're sorry to say that the brave abalone wasn't quite so 'shellfish.' OK, stop groaning.
BUILT TO LAST?
Much like Paris Hilton, acoustic guitars can be high maintenance. They don't like extremes of temperature, being sat on or dropped from a great height – the guitars we mean, not reality TV stars. We wouldn't like to be treated like that either, to be honest. Thanks to the quality of its construction, the D-52NS will last for years if it's treated with respect. Just remember that you've parted with £500 and that should keep you on the straight and narrow. It helps that Farida has included a hard case with the D-52NS. It's a good quality case – just the thing for rehearsals and gigs – but you'll need something a bit more substantial if you intend to travel abroad by plane.
HANDS ON
The neck on the D-52NS is as slim and as comfortable to play as any electric guitar we've tried. The action – or string height – is low and just adds to the playability. We love the feel of the thin frets, too. You shouldn't be surprised to find a great setup on a guitar of this price but sadly that isn't always the case. However, Farida has aced the setup on this guitar so it's obvious these guys know what they're doing. Great playability means bugger all if the guitar sounds like s*it, so it's cool to see that all that quality wood on the D-52NS is doing its job well. Strum an open chord and you'll be pleasantly surprised by the amount of sustain this axe pumps out. The overall tone is bright with a touch of bass. We don't have a crystal ball but with time we'd expect the treble response to calm down a bit as the bass becomes a bit more pronounced. At the moment the guitar is lively, loud and sounds great. The D-52NS kept us occupied for ages and that's as good a review as any guitar – acoustic or electric – can get.
THE BOTTOM LINE
If you're looking for a good quality, mid-price guitar, the Farida D-52NS should be on your 'must try' list. It gives a bee's knees a run for their money. We're sold on its sound, playability and the high-specification construction. Despite our electric guitar fetish that we thrill you with each month, we have to say that every guitarist should own a decent acoustic guitar. Of course, if we had the money we'd be sniffing around US-made guitars by Taylor, Gibson or Martin, but we don't have that kind of cash and we're not really brand name snobs, so we're happy to be seen with a £500 guitar like this. And when that kind of money can buy you this much guitar, you can't go wrong. Go on, give your trusty electric guitar a break for a while and try out the D-52NS for yourself. You won't be disappointed…
| | |
| --- | --- |
| Model & Type | D-52, Dreadnought |
| Top | Solid Sitka Spruce |
| Back | Solid Mahogany |
| Side | Solid Mahogany |
| Neck | One Piece Mahogany |
| Fingerboard/Bridge | Rosewood |
| Machine Head | Grover Chrome |
| Binding | White |
| Equalizer | None |
| Finish | Natural Satin |