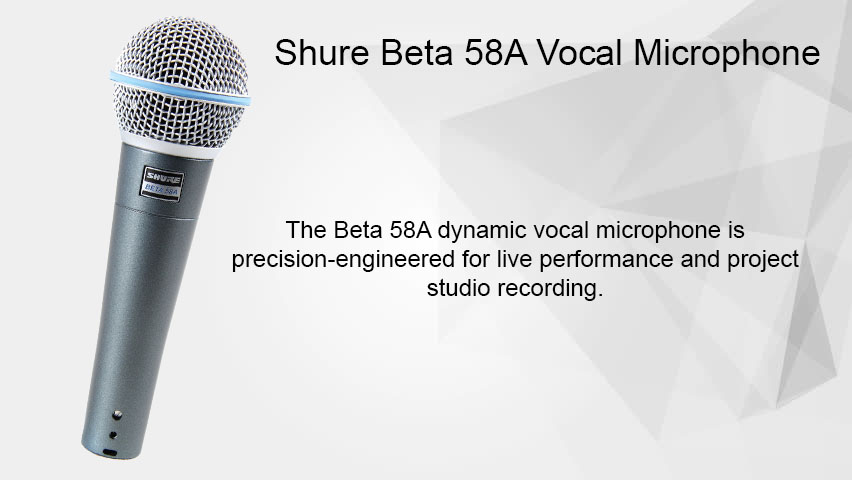 A Great Microphone for Live Vocals
The Beta 58A dynamic vocal microphone is precision-engineered for live performance and project studio recording. A tailored frequency response accentuates vocals, and the super-cardioid pattern isolates it from other sound sources. You need top performance from your live vocal mic. It has to be ready for the job, day in and day out, and sound great every time. In other words, you need a Shure Beta 58A! Perfect for vocals in the live environment, this go-to dynamic mic gives you the ruggedness you need, while its super cardioid pickup pattern excels at keeping outside sound sources at bay. The Beta 58 has a very smooth frequency response, so it works well on all kinds of voices. When clean, clear, detailed stage sound is a requirement, choose the Beta 58A.
WHAT IS THE BETA 58A BEST SUITED TO?
The Beta 58A is a premium vocal mic ideally suited for professional lead and backup vocals, either on stage or in the studio.
HOW DOES THIS COMPARE TO THE LEGENDARY SM58?
Both are designed for vocal use and have a bright midrange and bass roll-off. The Beta 58A has increased sensitivity and high-end frequency response which results in a cleaner more detailed sound. It also features a super cardioid polar pattern compared to the SM58's cardioid, giving it greater unwanted sound rejection and more resistance to feedback. Tuned for great live vocal performance singers will love this mic, plain and simple. The high-output Beta 58A has a natural presence boost at 4kHz and 9kHz. This shaped frequency response is ideal for close-up vocals, really bringing out the clarity needed for cutting through a live mix. And the bass roll-off really helps control the proximity effect, so you have consistent performance from your mic while you focus on yours. The Beta 58's internal shock mount minimizes handling noise as well. Tailored for vocals, it's hard to find a better mic out there. Industry-standard dependability here has famously put their microphone designs through some insane punishments to demonstrate their durability and road-worthiness. The Beta 58 is no different. Shure knew when they were designing this mic that the stage and the road can be extremely difficult on gear. Just sounding great isn't enough. The Beta 58 would have to do it night after night, town after town, and gig after gig. Borrowing from Shure's rich history of dependability, the Beta 58 gives you just that. Supercardioid polar pattern is excellent at rejecting feedback, so you're on stage, your mic sounds great, and is holding up well on the road. Then all of a sudden your guitar player decides he needs to be twice as loud tonight! No worries. The Shure Beta 58's supercardioid pickup pattern all but rejects even the loudest peripheral sounds and minimizes feedback like a champ. Maybe that's why so many live sound engineers rely on them, and love when a performer does as well. But we can't help you with your guitar player.
Shure Beta 58A Supercardioid Dynamic Microphone Features:
Super clear live vocal dynamic microphone
Frequency response tailored for vocals
Legendary Shure quality, ruggedness, and reliability
Uniform supercardioid pickup pattern minimizes background noise
Bass roll-off minimizes proximity effect
Effective, built-in spherical wind and pop filter
Supplied with break-resistant stand adapter which rotates 180 degrees
Features:
Frequency response tailored for vocals, with brightened midrange and bass roll off to control proximity effect
Uniform super cardioid pattern for high gain before feedback and superior rejection of off–axis sound
Neodymium magnet for high signal–to–noise outputHardened steel mesh grille that resists wear and abuse
Advanced pneumatic shock mount system that minimizes the transmission of mechanical noise and vibration
Minimally effected by varying load impedanceLegendary Shure quality and reliability
Transducer Type : Dynamic
Polar Pattern: Supercardioid
Frequency Response: 50 Hz – 16 kHz
Sensitivity (1 kHz): -51,5 dBV/Pa / 2,7 mV/Pa
Weight: 278 g
Frequency Repsonse Curve