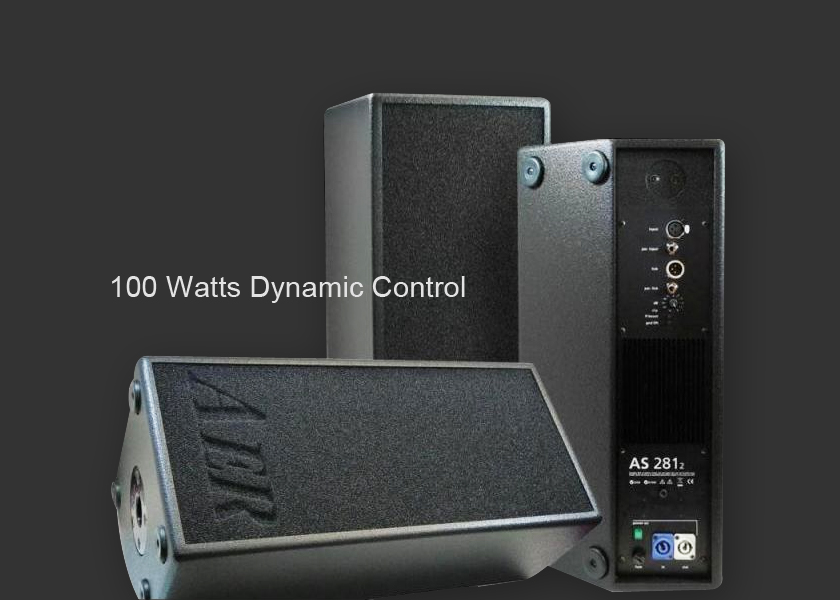 AS 281 is a small full range 2 way active system
in D'Appolito construction, based on 2×8″ low mid speakers with polypropylen cone embracing a bi-radial horn (LM-H-LM). The main advantage of the D???Appolito-concept is constant directivity especially in the "hang over" range of the speakers.It is equipped with a high-quality hybrid power amplifier that delivers 100 watts at 8 ohm with substantial power reserve due to oversized power supply.
It is a stand alone system
For general reinforcement/installation purposes or any monitor application. It is perfectly matched to complement AER products as acoustiCube 3 or the Dominos into full stereo systems. In combination with AS 550 D/Sub it forms a PA system for small clubs and/or acoustic, jazz or fusion ensembles.
100 watts, dynamic control
2 x 8″ polypropylene low-midrange speaker, biradial horn tweeter
two-way full-range system.
D'Appolito construction
14 kg (30.68 lbs)
| | |
| --- | --- |
| Inputs | electronically balanced, 10 kOhm XLR-connector |
| FREQUENCY RESPONSE | (1 watt @1m): -6dB: 65 Hz -20 kHz, axial sensivity: 97 dB SPL, 1 watt @ 1m |
| CROSSOVER | passive, 5 kHz, 18 dB/Oct. |
| POWER AMP | 100 W / 8 ohms, dynamic control |
| ANALOG SIGNAL PROCESSING | subsonic filter, low distortion, RMS limiter |
| SPEAKER SYSTEM | 2 x 8″ polypropylene low-midrange speaker, biradial horn tweeter |
| FEATURES | speaker out, link, ground lift, dynamic bass boost |
| ACCESSORIES | softcover, K&M connector plate |
| CABINET | 15 mm (0.59″) finnish birch plywood |
| FINISH | waterbased acrylic, black spatter finish |
| DIMENSIONS | 560 x 260 (front) x 135 (back) x 285 mmtrapezoid angle 50??, (22.0″ x 10.2″ x 5.31″ x 11.22″) HxWxD |
| WEIGHT | 14 kg (30.68 lbs) |