Iconic Design Reimagined.
Warmer, softer on every curve. The first ever screwless machine head. The design we have been dreaming off with a thousand hours of carefully consideration, a form that expresses love and elegant has been created. 

Riches Up Your Tone Like Never Before.
We didn't only design the structure but also invented a new way to let the structure to grow by itself. It uses mechanical simulation and algorithm to create a pattern that has up to 142 units of bionic structure. It also specifically riches up the bass of the instrument, and moves the soundboard in a more organic way.

  

Simple and Portable.
Enjoy superior sound and build quality everywhere you go, get inspired from adventures or vacations.

Weatherproof, Anywhere Could Be Your Stage.
With our patent pending carbon fiber composited AirSonic, you can now bring your LAVA U to anywhere from desert to Iceland. It's well adapted from most temperature and humidity readings.

Exceptional Neck. Enjoyable Playing Experience.
We refined the manufacturing detail of both the neck and fretboard. Every fretboard is CNC machined with a comfortable curve. We have also build in an ultra stiff carbon fiber rod inside the neck to improve the stability and sound.

Colorful Effects And Sound-In Our Smallest Preamp System.
The L2 mini developed by LAVA and Double acoustics. It enables you to play with superior sounds quality as well the effects like Reverb, Delay and Chorus with or without plugging in.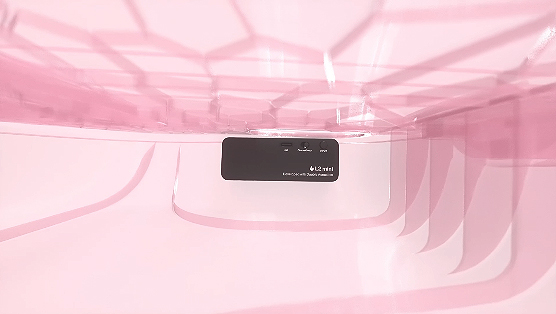 The L2 Mini is down to half of the size comparing with the original L2 preamp, yet it comes with all features. The Freeboost technology that allows you to play with effects without plugging in as well as the internal mic to receive both a more natural sound and percussive playing.

Freeboost technology uses the back of the instrument as a speaker. Turn it on with just one finger, you could enrich your playing with built-in delay, reverb and chorus without even plugging in the LAVA U.

Space Case.
Specifically designed for the LAVA U.
Combination of elegant, simplicity and the space-age inspiration. Made with a tough special material and luxurious mould. No compromise on it's design, material and craftsmanship.

Sparkle, Beautiful Finishes. Featuring All Colors.
Mix the sparkle pearl powder with the colorful matt finishes, we have been able to create the beautiful, one of a kind look and feel for the LAVA U.

All-New Single Strap Locker Design.
Super simple, yet reliable. Get the Ideal strap for your LAVA U with fresh colors and material choices.



Specification: