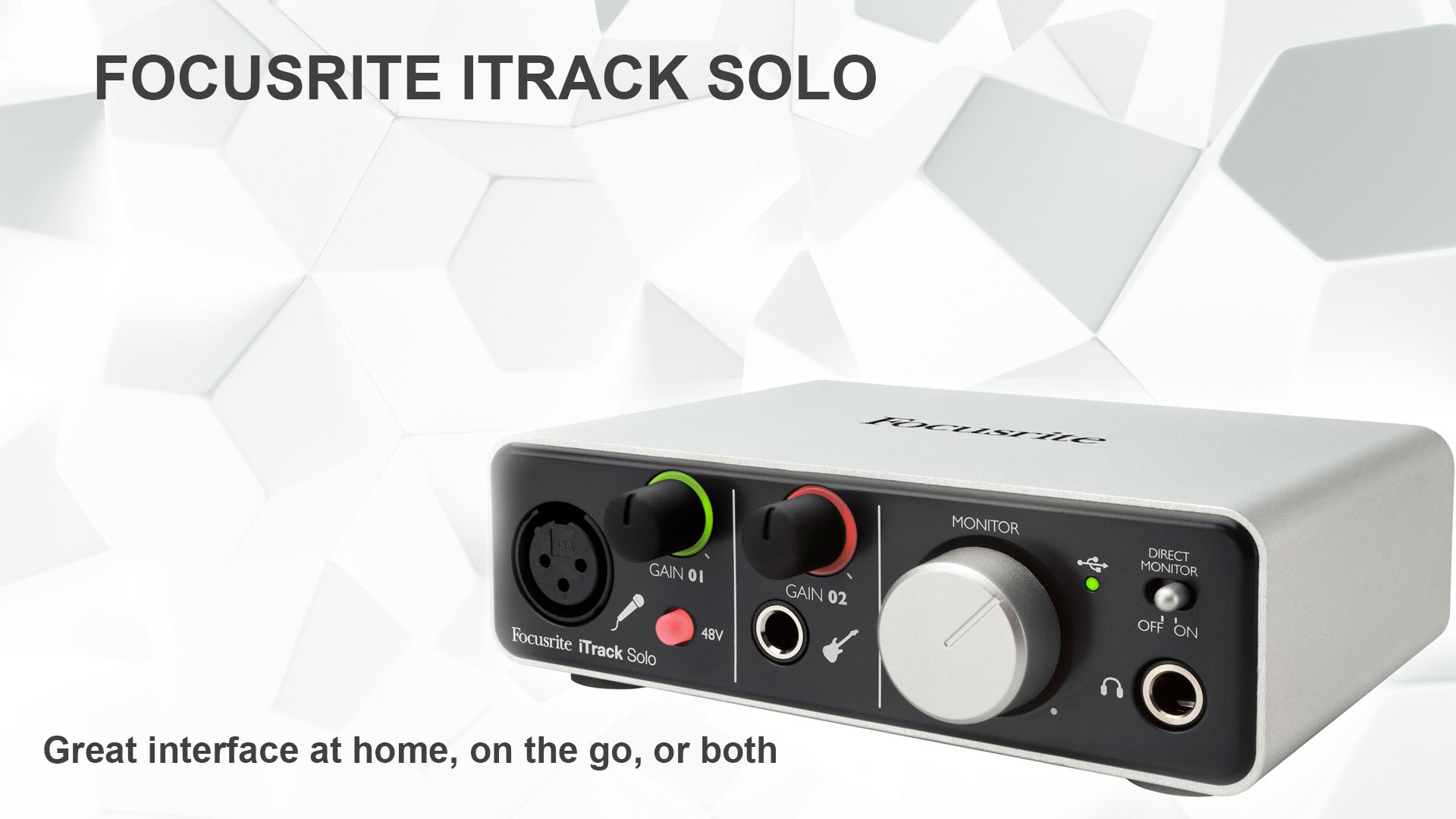 Focusrite Quality for Your iPad
Take Focusrite quality wherever you want to record, with the iTrack Solo iOS audio interface with Lightning connector! The two-channel iTrack Solo was designed for your Apple iPad, but it's a great-sounding interface for your Mac or PC too. You get one of Focusrite's premium microphone preamps, plus a direct input for your guitar or bass. With great sound, simple operation, and a rugged aluminum unibody case, Sweetwater can comfirm you've got a lot of portable recording potential with the Focusrite iTrack Solo iOS audio interface.
Focusrite iTrack Solo iOS Audio Interface at a Glance:
– Portable recording with Focusrite quality
– Easy instrument recording
– Great interface at home, on the go, or both
– Included software makes music creation easy
Portable recording with Focusrite quality
Focusrite made their name by designing world-class microphone preamps, and they've put one in the compact iTrack Solo. The sound is open and detailed, and a phantom power switch lets you use condenser microphones with the iTrack Solo. So even if you're away from your studio, you'll still be able to record great-sounding takes.
Easy instrument recording
You've also got a direct instrument input on the iTrack Solo in addition to the mic preamp. That makes it easy for you to record your guitar or bass directly, and also gives you the opportunity to recording a vocal performance at the same time as an instrument performance.
Great interface at home, on the go, or both
You'll find the iTrack Solo incredibly easy to use, because Focusrite designed it for easy portable recording with your iPad. And since it's so simple and easy to use it's a great audio interface for home use too, when you're looking for no-frills simplicity that doesn't sacrifice audio quality.
A software suite makes music creation easy
The iTrack Solo includes powerful software tools that will get you making music in no time. With Ableton Live Lite 8, it's easy to create music with a Mac or PC. Novation's Bass Station is an accurate model of a legendary Novation synthesizer. The Focusrite Scarlett plug-in suite gives you a collection of software plug-ins to add effects to your music software. Plus, you get 1GB of royalty-free sample content from Loopmasters. The iTrack Solo also works with current iPad DAWs including Wave Machine Labs Auria and Steinberg Cubasis.
Focusrite iTrack Solo iOS Audio Interface with Lightning Connector Features:
2-channel audio interface for Lightning-equipped iOS devices, Mac, and PC
Focusrite mic preamp with phantom power gives you open and detailed recordings
Direct instrument input makes it easy to record your guitar or bass
XLR mic input with available 48V phantom power for condenser mics
Aluminum unibody design is rugged for dependable portable use
Up to 24-bit/96kHz resolution with your desktop computer
USB and Device Link ports allow use with both computers and iOS devices
Ships with Ableton Live Lite, Novation Bass Station, Scarlett plug-in suite, and 1GB Loopmasters samples